Nachdem DIARY OF DREAMS gerade erst umjubelte Konzerte in China und Mexiko spielten, können wir bereits weitere Konzerte am anderen Ende der Welt ankündigen. Im Frühjahr 2017 wird die Band bei zwei Festivals in Südamerika zu sehen sein. Hier sind alle Details:
07. April 2017 – Santiago (Chile) @ Santiago Back in Dark
08. April 2017 – Lima (Peru) @ Lima Back in Dark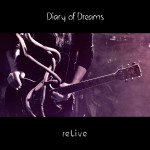 Rau, unpoliert, mit Ecken und Kanten. Die Lebendigkeit und Authentizität des Konzertklangs wurde weder glatt gebügelt noch zu Tode produziert. Es ist, was es ist, und es ist, was es war: live. Die Aufnahmen wurden nicht mit Overdubs, Schnitten und Neuaufnahmen verfälscht, sondern in ihrer Tatsächlichkeit erhalten. Und so spürt man es regelrecht, wie sich diese Kraft entfaltet und die Sinne für sich einnimmt. Kopf an Kopf mit der Energie und Magie eines Konzerterlebnisses; so lässt sich das klangliche Ergebnis der Aufnahmen von DIARY OF DREAMS' Grau im Licht Tour aus dem November 2015 in Hamburg, Leipzig und Berlin wohl am besten beschreiben. Auch zum Neuentdecken der Live-Qualitäten dieses Szene-Urgesteins ist "reLive" bestens geeignet, denn auf der Bühne erwachen die melancholischen Bombastorgien oftmals zu einem völlig neuen und zweiten Leben. Wer die Band noch nicht live erleben durfte, dem seien dieses Werk und ihre Konzerte daher unbedingt ans Herz gelegt.
Ca. 600 Konzerte in über 40 Ländern dieser Welt machen DIARY OF DREAMS zu einer der international aktivsten und erfolgreichsten Bands der Szene. Tauchen wir also ein in die Welt von DIARY OF DREAMS. Das Live Album "reLive" wird am 16. September 2016 über Accession Records erscheinen und kann hier vorbestellt werden: Accession Shop
Tracklist:
CD1
01-Schwarz
02-Sinferno
03-Malum
04-MenschFeind
05-Psycho-Logic
06-Krank
07-Butterfly:Dance!
08-Giftraum
09-Soul Stripper
10-Ikarus
11-Schuldig!
CD2
12-Choir Hotel
13-Mythology of Violence
14-the Colors of Grey
15-Dogs of War
16-Grau im Licht
17-a dark embrace
18-Endless nights
19-Undividable
20-the Plague
21-King of Nowhere
22-kindrom

Viele Fans in Mexiko waren sehr traurig, als die für Dezember 2015 geplante Show in Mexiko City abgesagt werden musste. Nun haben wir fantastische Neuigkeiten: DIARY OF DREAMS sind für das Orus Fest am 12. November 2016 in Mexiko City bestätigt. Weitere Informationen zur Veranstaltung findet ihr hier: https://www.facebook.com/groups/673899142729378.